We are open again! We have taken all the necessary steps to conform with international standards of CVD19 safety – to allow you to remain Distanced from others, ensure your rooms and furniture as well as table in the restaurant, and poolside loungers are safe for you to use.
Even Personal Isolation is possible, in your room*.

We are very sorry but all marine activities (SCUBA, Snorkelling) are limited to areas outside the national park as the Harbour to Menjangan is closed, see the Activities page for details.
*Isolation is a matter of personal responsibility; we can take no responsibility for how complete your isolation is; after all it is a public place.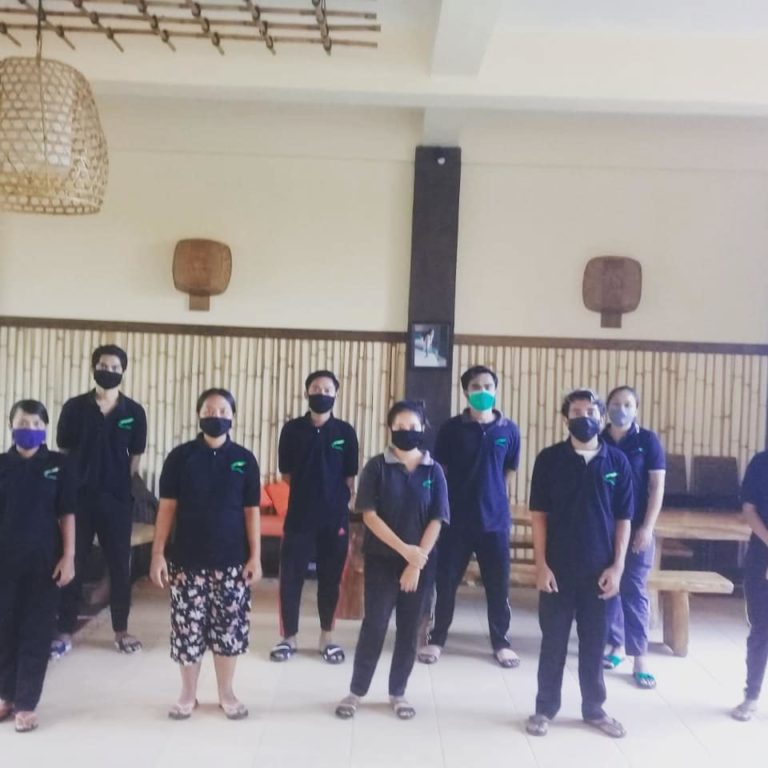 In this uncertain time, we are being asked to isolate ourselves, to reduce contact with other people.
We are happy to say, we can make this a more pleasant experience.
Here is how we do it.
Our resort layout means you can regulate how much contact you have with other people, as it is the entire open plan until you enter your room. To increase your safety, we have started the following.
Our staff is all monitored for symptoms and temperature every day, and we monitor their family at home too.
All visitors/staff must wash their hands immediately upon entering the hotel.
All orders arriving from outside, are washed before they come inside.
Staff is educated on how the virus spreads, handwashing techniques, etc.
To increase your personal Distancing while still enjoying the pool, surrounds, restaurant, etc, we also offer this;
a reserved table in the restaurant. Nobody else will sit at your table during your stay, and it will be thoroughly cleaned regularly.
a reserved sun-lounger or beanbag (depending on availability). During all your stay it will be reserved for you.
for Cottage reservations, the Balai is reserved exclusively for your use.
Tables, sunloungers, Balai, etc will be cleaned thoroughly every day.
For those wanting more complete isolation:
Take all meals on the terrace of your room. Your room will only be cleaned when you ask.